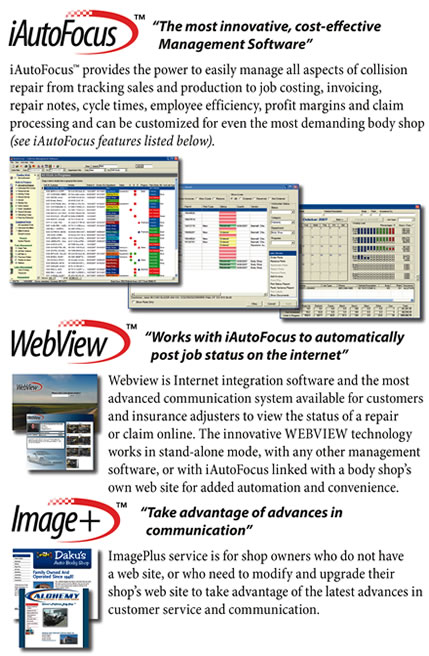 iAutoFocus collision management software for auto body repair is designed with the latest Windows technology to simplify management functions for body shops of any size. Our flagship product iAutoFocus™ is the most innovative management system in the marketplace, giving you complete control to monitor sales, schedules, production, parts, receivables, labor, accounting, business reports, statistics and much more. iAutoFocus is a proven and tested leader in the industry with all the latest communication and management tools. Demo it now and see for yourself how easy it is to use, and how it can be customized for even the most demanding auto or truck repair shop.
WebView™ provides automatic or manual posting of collision repair information to any Internet web site, thus allowing job status and photo images to be automatically displayed on a shop's own website. Webview is the industry leader in automated online integration, and is designed to benefit Customers, Insurance adjusters, Rental Companies and the collision repair shop.
ImagePlus™ service is available to shop owners who do not have a web site, or who need help to modify and upgrade their shop's web site. We can develop a website for you that is professional and industry specific to give your shop that extra edge to attract customers and keeps them coming back. If your shop already has a website just add our Webview Link for customers to check the repair status and see the vehicle images taken during the repair process.